Posted by AVP on Aug 25th 2022
In addition to inflating tires, an air compressor can power other pneumatic tools, making it a versatile and valuable tool. As an added bonus, mini air compressors are compact enough to fit in the back of your truck, making them ideal for use on the go or in remote locations.
Here we'll be discussing the where and how of using portable miniature air compressors in different industrial settings.
Several Uses for Miniature Air Compressors
While stationary air compressors offer more flexibility in terms of functionality and operating power, many portable mini air compressors offer the same. They come with an identical array of safety features, making it entirely risk-free for you to put them to use on the job sites you oversee.
Many portable miniature air compressors offer the same functionality and operating capacity choices as their heavier and larger stationary counterparts, despite their reduced size and portability. Every one of the same safeguards is built into them, so you can confidently use them on any of your construction sites.
Portable Air Compressors Can Also Be Found in the Following Places:
A portable mini air compressor is ideally suited for use in a manufacturing plant where equipment is frequently relocated for purposes of maintenance or to meet the needs of different assembly lines.
When there is no other way to power equipment, people will often use portable mini compressed air systems in ski resorts. This may involve braving the subzero temperatures of a steep hill in order to replenish the snow supply for skiers, a feat that necessitates adapting to both the altitude and the cold.
They provide the same level of versatility for manufacturers with multiple locations or whose services involve working on customer sites, allowing for the movement and use of machinery precisely when and where it is required.
In the pharmaceutical industry, air compressors are frequently used for a variety of tasks, including packaging materials, running machinery and equipment during production, applying corrosion inhibitors, and filling mixing tanks with compressed air.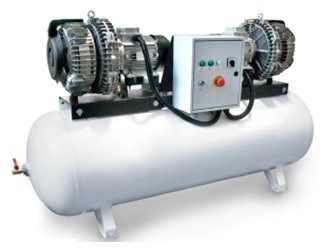 Compressed air is needed for many agricultural tools, such as water pumps, crop sprayers, tractors, conveyors, pneumatic material handling machines, and even dairy equipment. Because of this, having a dependable air compressor is essential to running a profitable farm.
The Panther Oil Free Mini Air Compressor with 130 Gallon Tank is an excellent partner in situations like these. Because it does not require oil to function, this air compressor is a great option for those concerned about minimizing their impact on the environment.
Reasons to Use a Portable Miniature Air Compressor
The mini air compressor's portability is probably the most immediately apparent advantage. Because of how small and light it is, you can easily transport this tool from your home to your job site and back again.
In addition to their convenience, mini air compressors are typically simple to operate. Mini air compressors aren't too big and heavy for a single person to handle, so that's one less thing to worry about if you're working alone.
As an Excellent Solution for a Backup Air Compressor
Maintaining peak performance from an air compressor calls for periodic service. Without a second air compressor on hand, routine upkeep will have to be scheduled for off-hours or on the weekend, when production is at a grinding halt.
Maintenance work will need to be scheduled during off-hours if your company operates round-the-clock. If your company uses a lot of compressed air, losing access to that source could result in a significant drop in output, broken production lines, and significant financial losses.
Remember that it may be some time before a technician who specializes in compressed air service can get to you and fix the problem. And if there isn't a spare compressor on hand, the downtime caused by an unexpected breakdown can be costly in terms of both lost time and money.
It's a shame that top-notch machinery occasionally breaks down, but it happens. For this reason, a portable backup compressor is an indispensable part of any compressor system.
After weighing the costs against the consequences of not having one, it is clear that buying one now is the best course of action for any business.
With spare miniature air compressors on hand, routine upkeep can be performed whenever it is most convenient for the business, rather than waiting until off-peak times like holidays and weekends.
Load sharing can also alleviate concerns about the compressor sitting idle. Thus, the compressors can be cycled so that they receive equal time on the job.
In order to maximize productivity while minimizing downtime, simple controls can distribute run time for each machine in an even manner.
Check out the silent mini air compressors we have available here in our online store. If you have any questions or concerns, please contact us at 866.660.0208. You can start the process by searching, or you can get in touch with us here for a quick quote.