Posted by AVP on Aug 29th 2023
Compressed air plays a crucial role in various university laboratory applications. From powering pneumatic tools to cleaning equipment and operating analytical instruments, its versatility is undeniable. However, it's important to note that compressed air can contain contaminants like water vapor and oil, which can potentially harm sensitive equipment and compromise the accuracy of results.
Introducing portable compressed air dryers, an excellent solution to guarantee clean and dry compressed air within your laboratory. These dryers offer the advantage of being compact, portable, and easy to move around as needed. Not only that, but they are also relatively affordable, making them a cost-effective choice to safeguard your equipment and ensure precise outcomes.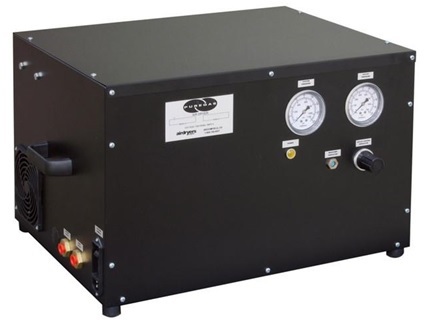 Types of Portable Compressed Air Dryers
When it comes to portable air compressors and compressed air dryer packages, there are a few different types available. Let's explore some of the most common ones:
Mini Clean Dry Air (CDA) Packages: These compressor/dryer packages utilize regenerative desiccant dryer to eliminate moisture from compressed air. They are particularly suitable for applications that require a high level of dryness.
Mini Clean Dry CO2 Free Air (CDA) Packages: Similar to Mini CDA Packages, these dryers go a step further by removing carbon dioxide from the compressed air. This is especially important for applications where CO2 can interfere with analytical results.
Miniature Heatless Dryers: These stand alone dryers rely on a desiccant to remove moisture from compressed air. They are an ideal choice for applications that require a lower level of dryness.
Regardless of the type of portable compressed air dryer you select, it is crucial to ensure compatibility with your laboratory's compressed air system. Additionally, proper sizing is essential to meet your specific needs.
Benefits of Using Portable Compressed Air Dryers in University Laboratories
There are numerous benefits associated with utilizing small compressed air dryers in university laboratories, including:
Compact and Lightweight Design: Mini compressed air dryers are significantly smaller and lighter compared to their traditional counterparts. This makes them incredibly easy to transport and store, providing convenience and flexibility.
Affordable: In terms of cost, miniature compressed air dryers are generally more budget-friendly than traditional alternatives. This affordability makes them an attractive option for university laboratories looking to optimize their resources effectively.
Easy to Use: Small compressed air dryers are designed with user-friendliness in mind. They typically require minimal maintenance or upkeep, ensuring a hassle-free experience for laboratory staff.
Reliable: These dryers are built to be reliable and durable, offering years of dependable service. University laboratories can depend on their performance without worrying about frequent breakdowns or inefficiencies.
Elevate Your University Laboratory's Performance
Are you searching for a compact, lightweight, and affordable solution to ensure clean and dry compressed air for your university laboratory? Look no further than Air Vacuum Process and our exceptional range of small compressed air dryers. We specialize in providing top-quality equipment that surpasses the highest standards in the industry.
Why Choose Air & Vacuum Process?
At Air & Vacuum Process, we understand the unique needs of university laboratories. We are dedicated to delivering innovative solutions that enhance performance and reliability. Here's why you should experience the advantages of our miniature compressed air dryers:
Compact, Lightweight, and Affordable
Our mini compressed air dryers offer a remarkable combination of compactness, lightweight design, and affordability. Unlike traditional dryers that take up considerable space, our portable models are easy to maneuver and store. You'll appreciate the convenience of having a dryer that doesn't compromise valuable laboratory space. Plus, our competitive pricing ensures that you can enjoy the benefits without straining your budget.
Unparalleled Expertise and Quality
When it comes to transportable compressed air dryers, our expertise sets us apart. We have a team of experienced professionals who are well-versed in the intricacies of laboratory requirements. We only offer compressed air dryers from brands that are meticulously engineered using top-quality components and undergo rigorous testing to meet the highest standards of performance and durability. With Air Vacuum Process, you can trust that you're investing in equipment that delivers exceptional results.
Seamless Integration and Personalized Solutions
We understand that every university laboratory has unique needs. That's why our dedicated team at Air Vacuum Process is committed to providing personalized solutions tailored to your specific requirements. Whether you need a dryer that can accommodate a particular compressed air system or one that delivers a specific level of dryness, we've got you covered. We work closely with you to ensure seamless integration and maximum efficiency.
Contact Us Today!
Don't miss out on the opportunity to optimize your university laboratory's performance. Visit our website or contact us today to learn more about our range of transportable compressed air dryers. Our friendly and knowledgeable team is ready to assist you in finding the perfect dryer that aligns with your needs.
Ensure the integrity of your laboratory results and extend the longevity of your equipment with our portable compressed air dryers. Trust in our expertise and experience the difference. Elevate your laboratory's performance with us today.