Posted by AVP on Sep 29th 2022
There are several situations in which a mini air compressor might be useful. You may use it to power pneumatic tools as well as the best tire inflators and pool inflators. In laboratories and Research centers. They are used in Autoclaves, gas chromatography, spectroscopy and other lab and research center equipment requiring compressed air. A mini air compressor's primary function is to compress or pressurize ambient air.
Because of their small size and portability, miniature air compressors are a great addition to any job site or on-the-go toolkit. The top air compressors are small and portable, yet strong enough to do the task at hand with ease.
As a result of the huge variety of brands and models on the market, it might be tough to determine which is the best mini air compressor. With the correct research and information, you can narrow down your options and find exactly what you're looking for.
Who may profit from a tiny air compressor?
As technology advances at an ever-increasing rate, so does consumer desire for smaller, more portable devices. In today's society, technology has taken on a new meaning, one that offers convenience and efficiency to people's daily lives. Investments in portable and easy-to-use gadgets and devices are all the rage these days. As a result, innovations such as the cordless tire inflator and air compressor were created.
Every home and light commercial business should have a miniature air compressor or a portable tire inflator since these items are equally useful. Unless you have one of these gadgets, you'll have to go to the nearest gas station for just about every simple task.
An air compressor reduces the volume of air by compressing or condensing it, as opposed to an air pump, which is used to transfer liquids or gases. Miniature air compressors are an essential piece of equipment because of their portability, efficiency, and compact size.
Using air compressors to power your work site's tools and equipment can help you save money while also extending the life of your equipment. But compressed air's benefits go far beyond that.
Uses For Small Air Compressors
Here are three examples of how miniature air compressors are used in the workplace, for recreation, and in everyday life. Some of them may surprise you, while others have already been mentioned.
High-pressure cleaning
For car washing, stain removal on walls and concrete floors, high-pressure water blasters like miniature air compressors from Air & Vacuum Process INC.
Crop production
Farms rely on air compressors to spray crops and circulate air in greenhouses, among other things, to maximize productivity.
Inflating
Air compressors, in their most basic form, do not store the compressed air they produce but rather use it immediately. Tires, balloons, air mattresses, and other inflatables can be inflated with compressed air.
What are the advantages of using a Mini Air Compressor?
Efficient
When compared to their larger-sized counterparts, small air compressors provide excellent value. In spite of their minimal cost, a number of small air compressors are available with high power ratings, making them an ideal choice for a wide range of tasks.
Movable
The most obvious advantage of small air compressors is that they are lightweight and easy to move about. With this tool, you may take it with you everywhere you go on your property, job site, or even in your vehicle.
Convenient for the end-user.
Generally speaking, little air compressors are quite simple to use and operate. Miniature air compressors aren't heavy-duty devices, it's highly likely to be operated by a single person alone.
What about silent air compressors, and how do they work?
This type of air compressor is designed to be as quiet as possible, if not completely silent, by incorporating additional noise-damping features. This is particularly well suited to smaller workshops where the compressor system is located close to the company's main office.
In some industries, the sound of moving air and industrial machinery is just not appropriate. ' Working for eight hours in a contained environment means that the air compressor must have excellent lubrication, precision engineering, and additional noise insulation in order to reduce noise levels and provide a more pleasant working environment for the employees.
The decibel rating of a low-noise air compressor is used to determine its level of quietness (dB). The air compressor will be louder when running if this number is higher.
Anywhere between 40 dB and 60 dB is considered quiet for commercial air compressors. The lower the number, the smaller the machine would have to be for it to be suitable for industrial use.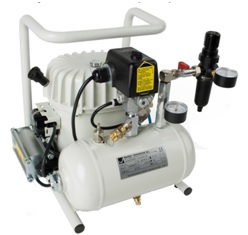 In our collection, we have the Fiac P50-TC Panther Silent Mini Air Compressor, which is both silent and portable. This compact air compressor is great for little hobbies and DIY tasks like tire inflation, blowing, and painting since it's always ready to use wherever you need it.
The tank is located in the lowest portion of the construction, while the pump unit is supported by the smallest available space. It's a perfectly silent air compressor that doesn't produce any vibration.
It is also equipped with a pressure switch for automated start/stop for simplicity of usage.
The cause of an air compressor explosion.
Many air compressors have blown up due to misuse or neglect. A common cause of tiny air compressor explosions is corrosion in the tank from accumulated water.
Some manufacturing flaws might also be to blame for an air compressor explosion. In addition, a tiny air compressor might explode as a result of poor maintenance. You should follow the manual's directions to ensure the safe functioning of the gadget or equipment.
Air compressors, desiccant drain valves, and dew point meters are just some of AVP's best-of-breed products. Dehydration products sold by our company are custom-made for each and every one of our clients. It is a source of great satisfaction for us to be able to deliver personalized attention to each and every one of our customers.
Any more queries can be answered by calling 866.660.0208 or messaging us through our AVP customer support. You may rely on us to respond to your calls or emails at any time of day or night, seven days a week.